PowerBully for civil protection and disaster control
Sale of the first PowerBully 9C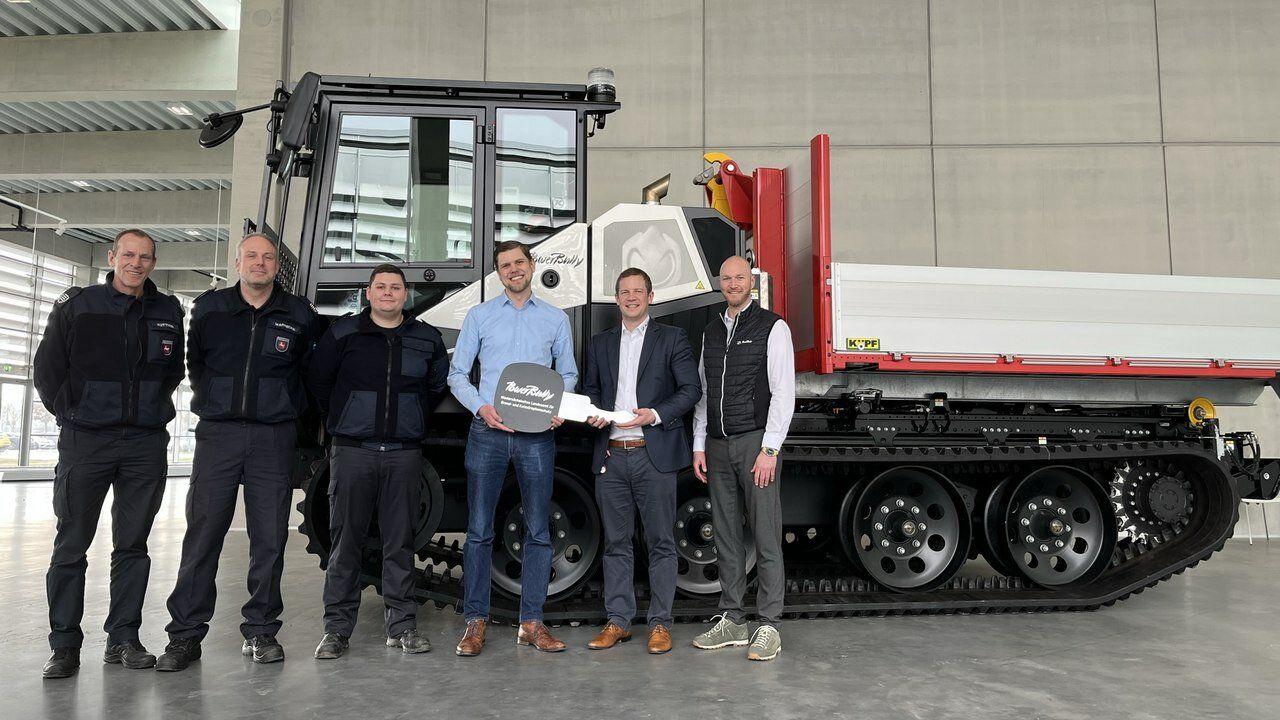 Kässbohrer Geländefahrzeug AG sold the first PowerBully 9C to the Lower Saxony State Office for Fire and Disaster Control (Niedersächsisches Landesamt für Brand- und Katastrophenschutz, NLBK). The tracked vehicle with a hook lift attachment is the first machine of its kind in German civil protection and disaster control and will be used for forest and peat fires, high water levels and extreme winter weather situations. The PowerBully 9C makes it possible to bring people and equipment to locations of operation that are difficult to access.
In mid-February the PowerBully 9C was handed over to a delegation of the NLBK at the corporate headquarters in Laupheim. The symbolic key handover took place after a factory tour and company presentation. Afterwards, the technicians who came along received training in the PRO ACADEMY for the machine and hook lift attachment. Then the PowerBully 9C was put on the flatbed trailer and began its journey to northern Germany, where they have plans to use it soon in initial tests.
The PowerBully 9C is equipped with a 6-cylinder Cummins engine with 235 metric HP and a hydrostatic propulsion drive. It has gradeability of up to 60 percent uphill and downhill as well as 40 percent sideways, which means it can even operate on slopes.
PowerBully is highly capable in off-road applications, so it opens access to deployment sites that cannot be reached with wheeled vehicles. The endless rubber tracks with a width of 750 mm offer a large contact surface. This results in low ground pressure: at only 0.19 kg/cm², this is many times lower than for wheeled vehicles. Accordingly, it is possible to drive on soil with a low bearing capacity. With its wading depth of 1.20 m, the PowerBully 9C can also drive through swampy or flooded areas without any difficulty.
Use for civil protection and disaster control
Last year, the PowerBully 9C was presented for the first time to the fire and rescue service industry at the Interschutz trade show. The machines offer rescuers access to deployment sites that cannot be reached with wheeled vehicles—for example, when infrastructure has been damaged or destroyed as a result of floods, landslides or storms. The hook lift attachment can be used for transporting tools and relief supplies to the affected locations.
Lower Saxony is the first German federal state to expand its vehicle fleet by adding an all-terrain tracked vehicle. PowerBully is proud to be able to contribute to civil protection and disaster control and looks forward to successful collaboration with the NLBK. As part of a pilot partnership, PowerBully and the NLBK will continue working together closely.